eurobits Security Summit 2022
IT security is becoming increasingly important. Authorities, critical infrastructure facilities, companies, associations – they all have to face constantly growing challenges. Digital threats can become tangible very quickly.
A successful IT security ecosystem has developed in the Ruhr region over the past two decades. A hotspot unique in Europe has emerged here that unites science, business, users and the IT security industry – from start-ups to global market leaders. Public clients and politics can thus work together successfully in a small space.
With the eurobits Security Summit 2022 – again this year under the patronage of Prof. Dr. Andreas Pinkwart, Minister for Economic Affairs, Innovation, Digitalisation and Energy of the State of North Rhine-Westphalia – we would like to contribute even more to networking: with familiar and new partners, nationally and internationally, digitally and locally. From 2 to 6 May, together with our partners, we are offering interesting events for business, municipalities and municipal companies as well as for the healthcare industry with a view to the new challenges in IT security.
You can find a review with re-live videos of the eurobits Security Summit 2021 here.
Agenda
We are constantly working on the programme. The exact times and contents are therefore constantly updated.
Monday, 2th of May
Kick-off | 10.00-10.45 a.m.
hybrid | Bochum, Centre for IT Security, and Live Stream
Join us for the start of the eurobits Security Summit 2022 – in the video stream or directly on site in Bochum.
IT Security Panel I: Cyber Defence | 10.45-11.45 a.m.
hybrid | Bochum, Centre for IT Security, and live stream
Cyber attacks on small and medium-sized enterprises (SMEs) are a constant and growing challenge. The concept of the "cyber defence" is intended to provide fast and unbureaucratic help in the event of damage – analogous to the voluntary fire brigade. What is the current status of this new eurobits e.V. project and what are the further plans? These and many other questions will be discussed and answered in the panel.
IT Security Panel II: Cyber Insurance | 12.00-13.00 hrs
hybrid | Bochum, Centre for IT Security, and live stream
Under the title "Well secured(?): What do current cyber insurances do and what don't they do?", representatives from SMEs, from the insurance industry, as well as cyber security experts will discuss the current cyber threat situation in this panel. Audience members can look forward to an overview of current cyber insurance benefits as well as exciting suggestions for future approaches and ways to protect themselves in the event of a loss.
Joint networking & snacks | from 1.00 p.m. onwards
Presence event | Bochum, Centre for IT Security
You can find the agenda for the event here.
eurobits ECSO Start-up Pitch 2022 | 15.00-17.00 Uhr
Live-Stream
Zum dritten Mal veranstaltet der eurobits e.V. gemeinsam mit der European Cybersecurity Organisation (ECSO) den Start-up Pitch im Rahmen des European Cybersecurity STARtup Award 2022 der ECSO. Sechs europäische Start-ups aus dem Bereich der IT-Sicherheit dürfen ihre Ideen und Lösungen in jeweils siebenminütigen Pitches einer hochrangigen internationalen Jury vorstellen. Die beiden Erstplatzierten qualifizieren sich für das Finale des European Cybersecurity STARtup Awards der ECSO. Freuen Sie sich auf diese Start-ups:
🇩🇪 brighter AI
🇫🇷 CrowdSec
🇪🇪 eID Easy
🇮🇹 Ermes
🇨🇭 Integritee
🇩🇪 XplicitTrust
Diese hochkarätige Jury wird die Pitches bewerten: Willi Mannheims (eCapital und Vorsitzender der Jury), Silke Bargstädt-Franke (Bundesamt für Sicherheit in der Informationstechnik), Rainer Baumgart (eurobits), Udo Filzmaier (F Technologies), Katharina Frie (eCapital), Carlos Moreira da Silva (Sonae IM), Christof Paar (Max Planck Institut für Sicherheit und Privatsphäre), Ulrich Seldeslachts (u.a. LSEC und ECSO) sowie Jannis Stemmann (Bosch CyberCompare).
Den Live-Stream können Sie auf unserem Youtube-Kanal verfolgen
Tuesday, 3th of May
ITS.Connect 2022 | 10.00-16.00 Uhr
Präsenz-Event | Bochum, Veranstaltungszentrum der Ruhr-Universität Bochum
Would you like to position yourself as a forward-looking and attractive employer in the highly dynamic field of IT security and make personal contact with qualified IT security students and graduates? The unique company contact fair ITS.Connect, which specialises in IT security, offers you the ideal platform to make this contact. On this day, the Faculty of Computer Science at Ruhr-Universität Bochum, one of Europe's leading locations for research and education in the field of IT security, will be hosting ITS.Connect for the 14th time.
You can find all the information on the website of ITS.Connect 2022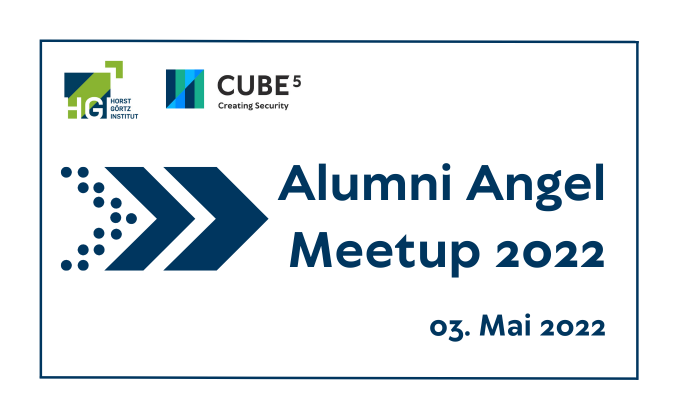 Alumni Angel Meetup | 15.00-17.15 pm
hybrid | Bochum
Cube 5 and the Horst Görtz Institute for IT Security invite all HGI alumni, students and young founders to the Alumni Angel Meetup 2022. In addition to lectures, a one-hour digital SpeedDating event offers all participants the opportunity to meet again, get to know each other and network. Here, memories, experiences or expertise can be exchanged in a digital format, business models can be presented and investors and advisors for start-up companies can be won.
All information about the Alumni Angel Meetup can be found on the Cube5 website.
Wednesday, 4th of May
31. Sicherheitstag der Allianz für Cybersicherheit in Kooperation mit dem Hörst-Görtz-Institut | 10.00-15.30 h
Presence event | Bochum, Event Centre of the Ruhr University Bochum
The German Federal Office for Information Security (BSI) as initiator and sponsor of the Alliance for Cybersecurity will hold the 31st Security Day on the campus of the RUB as part of the eurobist Security Summit and in cooperation with the Horst Görtz Institute (HGI) of the Ruhr University Bochum (RUB). The topic: Resolving complexity and strengthening cyber security – where do I start?
Registrations until 28 April on the ACS website.
Z.WAN 2022 – Zukunft. Wasser. Agil. Netzwerken. |
8.30-19.00
Presence Event | Zeche Zollverein, Essen
On this day, the eurobits member Competence Centre Digital Water Management (KDW) is hosting the "Z-WAN" at Zeche Zollverein. The event is all about the digitalisation of the water industry – and about safeguarding this ongoing transformation in the context of IT security.
You can find all the information on the KDW website
Thursday, 5th of May
Municipal conference on IT security in hospitals | 9.00 a.m. – 2.30 p.m
presence event | Bochum, G DATA CyberDefense AG, Koenigsallee 178, 44799 Bochum
There is hardly any other place where a cyber attack has such an immediate impact as in a hospital. In order to equip these important KRITIS companies with the necessary IT security resilience, the Arnsberg district government and eurobits e.V. are again holding an IT security conference specially tailored to hospitals this year. Participation only by invitation from the district government of Arnsberg.
The agenda for the event can be found here.
RuhrSec | 8:00 a.m. – 5:15 p.m
presence event | Bochum, event center of the Ruhr University Bochum
The RuhrSec is the English-language non-profit IT security conference that has been held annually since 2016 with up-to-date security lectures by renowned experts. The conference will take place at the Ruhr University Bochum, right in the heart of Bochum. The RuhrSec offers academic and industrial lectures, a typical university feeling and a highly recommended social event.
RuhrSec Dinner | 5:15 p.m
presence event | Bochum
All information can be found on the RuhrSec 2022 website
Friday, the 6th of May
eurobits women academy workshop and networking
| 10:00 a.m. – 4:00 p.m
presence event | Bochum, G DATA CyberDefense AG, Koenigsallee 178, 44799 Bochum
How do we manage to counteract the shortage of skilled workers in IT security sustainably and at the same time quickly? The answer to this question is provided by the eurobits women academy, or "ewa" for short. The declared goal of this initiative is to get more women interested in IT security. During the eurobits Security Summit 2022, those responsible will provide information about various measures on this important topic for a whole day – during a workshop for HR managers, as part of a networking event for interested parties and in a very informal exchange of opinions and experiences over a light lunch and coffee and cake.
The agenda for the event can be found here.
How can I participate in the eurobits Security Summit 2022?
Do you work for a company, a project or an educational institution with a focus on IT security and would you like to participate in the eurobits Security Summit 2022 as an exhibitor, speaker or in some other way? Or would you like to be a guest? Then feel free to contact us at any time at summit@eurobits.de . We look forward to seeing you!
An event from:

in cooperation with:
eurobits is funded by: